Liverpool starlet Rhian Brewster has sent a heartwarming nine-word message to fellow Reds youngster Paul Glatzel after his recent injury.
The 18-year-old had to be withdrawn after 78 minutes of Liverpool's friendly win over Tranmere Rovers last week due to a knee issue, and manager Jurgen Klopp described the problem as 'serious' to the club's official website afterwards.
Now Brewster has given his fellow teen some words of encouragement: "Deffo come back stronger bro, Keep your head up," he wrote in response to a post from Glaztel on his personal Instagram account on Wednesday.
Glatzel had written: "A dream come true ????????, which ended as a nightmare with another injury setback ???? thank you for all the support and kind words ?? I'll be back stronger ????????."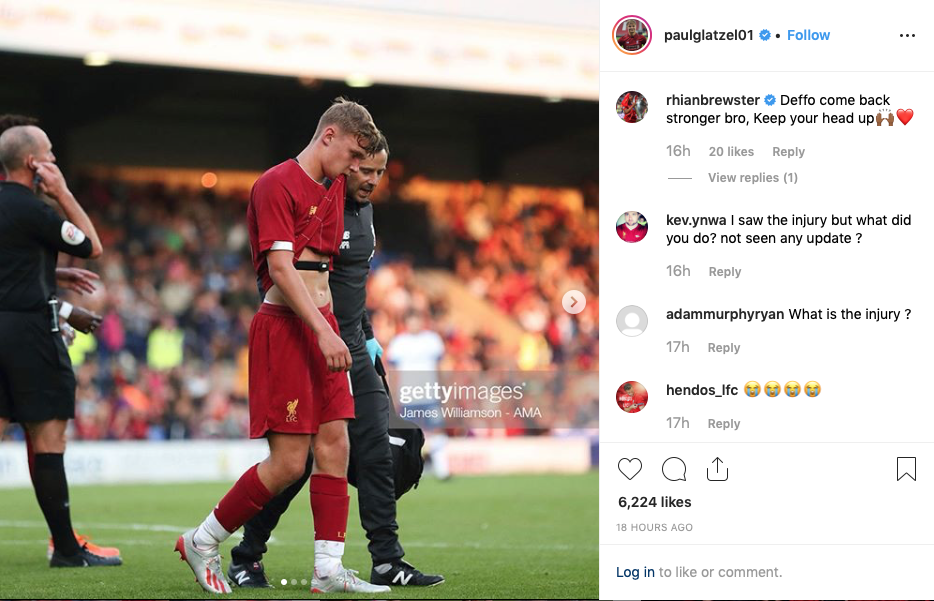 OPINION
It definitely was a sore blow for Glatzel to go down injured in a pre season game where he had come on the pitch and was making such a promising impression. He enjoyed a terrific season for the Reds' development team last time out, forming a fabulous partnership with Bobby Duncan, and it's clear that Klopp was ready to give both of them a real chance to impress over the course of this summer. However, it now appears he won't have that opportunity and could be out for quite a long period of time. That's a serious blow for him and is a real shame considering how much promise he possesses. However, if there's one youngster who knows what it's like to suffer a damaging injury so early on in their career, it's Brewster. The 19-year-old was making his comeback from serious injury against Tranmere, having essentially missed the entirety of the last campaign. So there is hope for Glatzel yet.