Deco tipped Liverpool midfielder Fabinho to have another year of joy after the 25-year-old returned to action on Thursday against Tranmere Rovers.
The Liverpool midfield enforcer featured in the 6-0 win over Tranmere during pre-season on Thursday and shared that he was happy to be back on his Instagram.
"We're back! So good to be here again," wrote Fabinho via his personal Instagram account.
The Brazilian sharing his joy about playing football again after the summer break, saw former Barcelona and Chelsea midfielder Deco send him a five-word message which predicted another successful campaign.
"Another year of joy brother," wrote Deco via his verified Instagram account, once translated.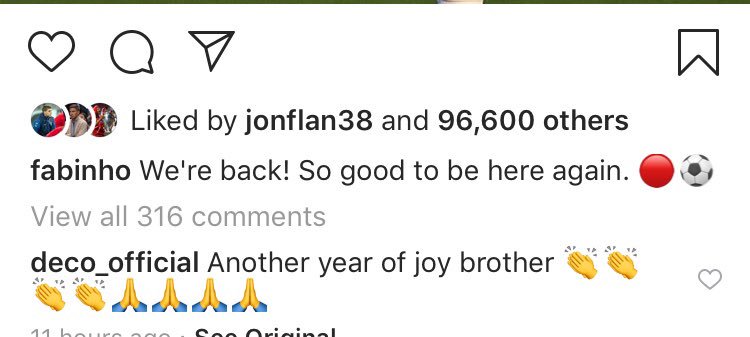 OPINION
Deco knows what it takes to be a successful footballer and if he is tipping Fabinho for more success, then that is a good thing. The 41-year-old won the Premier League, two La Liga titles, two Champions Leagues, two FA Cups and a whole host of trophies with Porto as well. Hopefully, Fabinho, who has so far won Ligue 1 with Monaco and the Champions League with Liverpool, can get close to matching Deco's trophy haul once his career comes to a close and hopefully he can win those trophies while at Anfield. The 25-year-old proved himself to be an important part of Jurgen Klopp's side in his debut season during the 2018/19 campaign and he will be vital in the upcoming season. Fabinho across his 28 league appearances, made 1,610 passes, won 53% of his tackles and racked up two assists as well as got a goal to his name (Source: Premier League). Given that the 25-year-old took a little bit of time settling into life at Anfield, he will likely be able to improve of his first season even though he set the bar high.