Fulham attacker Ryan Sessegnon sent Liverpool forward Rhian Brewster a message after the Reds defeated Tranmere 6-0 on Thursday.
Brewster, who scored twice against Tranmere, had previously taken to his personal Instagram account to share how happy he was to be back in action.
"Good feeling to be back on the pitch tonight, thanks to all who came down and supported! Great to get 2 goals as well," wrote the 19-year-old.
Brewster's celebratory social media post saw Sessegnon send him a supportive two-word message, via his Instagram account, as he simply wrote "my bro" with a love heart emoji attached.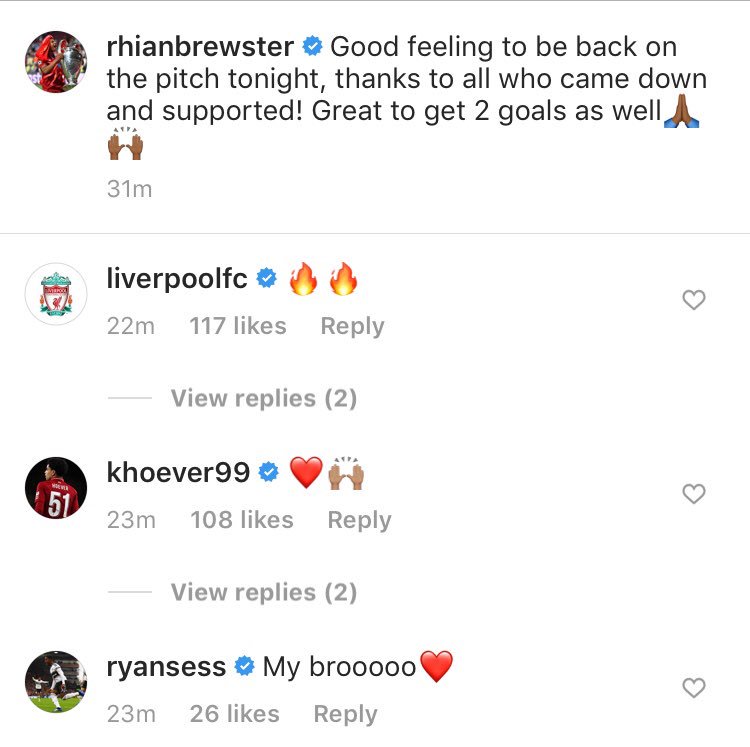 OPINION
It's nice to see one promising talent be supportive of another even when they play for different sides. Sessegnon had a disappointing campaign for Fulham in the Premier League in his latest season as the Cottagers suffered relegation. The 19-year-old may have shown glimpses of his talent in 35 league outings he made, he did score twice and register six assists after all, but he was no doubt hoping to make more of a splash in his first season in the top-flight. Interestingly enough, the Reds were previously reported by Goal as having a long-term interest in signing Sessegnon but that a deal was unlikely to be on the cards this summer due to his potential price tag. However, if Liverpool do feel like changing their mind, the teenager would no doubt be a welcomed arrival at Anfield as he can play as a left-sided winger as well as left-back. As for Brewster, the teenage forward is no doubt aiming to make his first appearance in the Premier League for the Reds in his 2019/20 campaign; and impressing in pre-season will only help his cause.