OPINION
Liverpool attacker Roberto Firmino should take umbrage over Danny Murphy's claim about Barcelona winger Ousmane Dembele.
Don Balon previously reported that the Reds were ready to spend £133.9million on signing the 22-year-old as Jurgen Klopp had "fallen in love" with the player, and TEAMtalk previously stated that Dembele was one of the Reds boss' top targets this summer.
Murphy has since weighed in on Liverpool's reported pursuit of Dembele and claimed the 22-year-old would be a fantastic signing.
Not only has the former Reds midfielder given the potential swoop a thumbs up but he shared that he thought the Barcelona attacker could potentially take Firmino's first-team spot.
"Dembele would be a fantastic signing for Liverpool," Murphy told Bwin.
"He's not had the best time at Barcelona, but clearly has an abundance of talent and the ability to win games by himself. If he can recapture his belief in his ability then Liverpool would have a formidable front three with him, Mane and Salah.
"When playing to his potential, I think he would edge Firmino out of the first team. Firmino is the type of player that would raise his own game and everyone's around him if Dembele came into the team.
"He'll fight for his place week in week out and if you're not giving your all on the pitch, then Firmino will be right there to take it."
Murphy has done a disservice to how important Firmino is to Klopp's side and his remarks carry an insulting implication as well.
The pundit seems to suggest that the 27-year-old is capable of raising his own game further by having competition increased for his spot, and surely that's insulting as there's no reason to suggest that Fimirno isn't already going all out to impress.
It's like Murphy is trying to say the Brazilian is complacent and that's just unfair.
Especially when you consider in the next breath, that Murphy states that Firmino would be capable of knocking Dembele out of the team if on the sidelines as he'd fight for his place every week.
When you compare Fimirno's 2018/19 season with Dembele's 2018/19 season on WhoScored, it shows that Liverpool don't really have to consider signing the Frenchman to knock the Reds forward out of the team.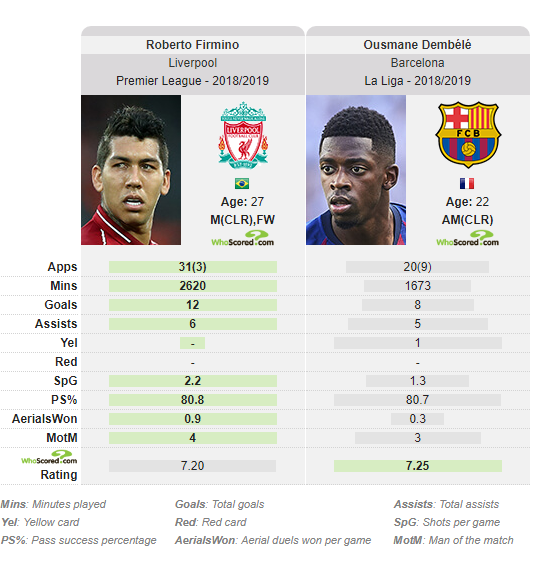 Firmino was superior in every category bar one, with Dembele just having a 0.05 better match rating on average, so surely it's absurd to claim he's worthy of taking his spot?
Murphy may say that Dembele has to be playing at his full potential to dethrone Firmino to cover himself, but that still isn't fair to the Brazilian.
At the end of the day, Firmino averaged more shots per game, had a better passing accuracy, won more aerial duels and contributed more goals and assists than Dembele so why should he be signed to potentially replace him?
Also, Murphy seems to forget that Firmino tends to play as a centre-forward for Klopp, 19 of his 34 league outings saw him feature in that position (Source: Transfermarkt), whereas Dembele has only played in that position five times in his career.
So that should enrage the Brazilian more as why is Murphy suggesting his first-team spot should be put under threat by the potential arrival of Dembele.