James Pearce believes that Liverpool proposed plans to redevelop the Anfield Road stand will cost somewhere in the region of £50 million. 
The Reds announced their intention to expand their home on Thursday, as reported by the Echo, and Pearce has put an estimate on how much it will set them back.
Writing in a Q&A for The Athletic, he also suggested that any figure would not interfere in future transfer budgets for the club.
He said: "That has no impact on transfer budgets.
"I'd expect the Anfield Road project to cost in the region of £50million depending on what design they go for.
"The Main Stand has been such a success that it's a no-brainer expanding further. Annual matchday revenues were £62m before the new Main Stand, the latest accounts showed that figure had leapt to £81m."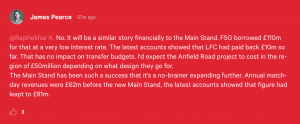 OPINION
Pearce is right to suggest that this move is a no brainer for Liverpool. The Reds have seen a substantial jump in match day revenue since they did the Main Stand over, and logic dictates that they will only bring in more if they keep the renovations going. The Reds are enjoying a real period of progress at the moment on the field, and that, coupled, with their huge history, make them one of the best supported sides in the world. They will always have people willing to fill the stands, and if economics is all about supply and demand, why not give the fans what they want? As long as the design is classy and doesn't rob Anfield of its immense history, then what's not to love? The Reds have really gone up a couple of notches under Klopp, and their home needs to keep pace to match that. This can only be a good thing for the Kopites.