Jamie Redknapp shared that he had a feeling that Liverpool would win the Premier League title in their 2019/20 campaign after just missing out to Manchester City last season.
The former Reds midfielder revealed in his Premier League preview for the Daily Mail (page 3, Saturday, August 3rd) that he was expecting this season's race for the title to be as tight as last year's.
"After missing out on the Premier League title by a single point to Manchester City, he re-motivated his players and made sure they did not miss out on being crowned champions of Europe," wrote Redknapp.
"That was Klopp's first trophy with the club and I suspect more will follow this season – including the Premier League title.
"I expect this year's race to be as tight as the last but I have a feeling that Liverpool could pip their rivals to it."
Redknapp went on to explain that he thought Man City losing Vincent Kompany could be a factor in Pep Guardiola's side missing out on the title to Liverpool as he claimed the defender "kept" his side in the title race last season.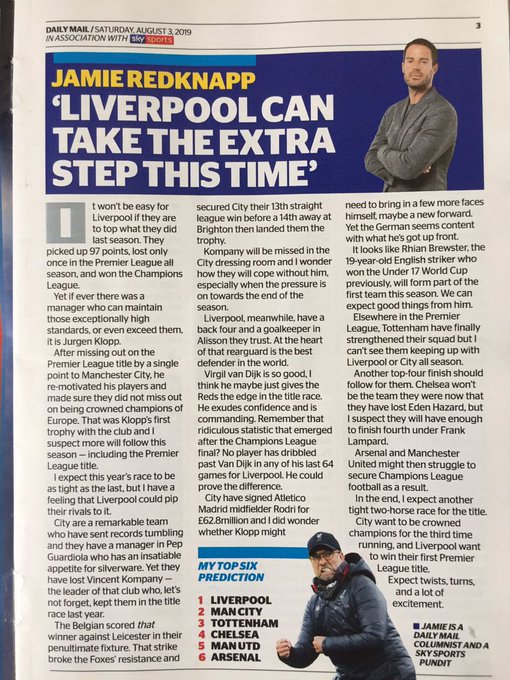 OPINION
Redknapp covers himself by saying Liverpool could win the Premier League, but then he does write them down in his top-six predictions as finishing first. It's no surprise that Redknapp believes Klopp lifting the Champions League could have a knock-on effect and see the Reds lift the league title, as success breeds success. However, it is a surprise that the former Reds man believes Kompany's exit at Man City could prove pivotal. After all, the Belgian defender only featured 17 times in the league last season, averaging a rating of 6.93 in the process (Source: WhoScored). Granted Kompany scored one beautiful match-winning goal against Leicester City to help keep his side marching towards the title and he has clearly been a leader in their dressing room in recent seasons, considering he has been their captain, but will his exit really matter that much? Man City seem capable of keeping the cogs turning without him on the pitch, and other experienced players are bound to step up to become leaders for the club without Kompany there. So while Redknapp tips Liverpool for success, it's hard to get too excited about his prediction as he believes Man City will be affected by the defender's summer exit.