OPINION
Arsenal have struggled against Liverpool in recent years, to say the least.
They haven't beaten the Reds' since 2015, and since then they have conceded 23 goals in eight meetings – hardly a record that the Gunners will be proud of.
In the build-up to Saturday's game, there have been some bizarre claims floating around, with Arsenal defender Sokratis claiming that the Reds are easier to defend against than Burnley in an interview with the Evening Standard.
You wouldn't exactly call a team easy to defend against when you have conceded nearly three goals against them in each game for the past four years.
That claim was topped on Tuesday when Kevin Nolan picked his combined side using players from both teams on Sky Sports' official Instagram account and included Gunners' youngster Joe Willock in the midfield.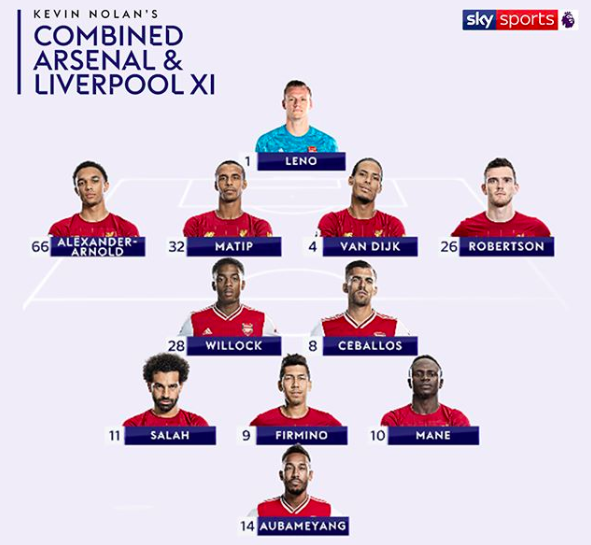 The former Newcastle and West Ham man selected Bernd Leno in goal – most likely because of the injury to Alisson Becker, who would have been guaranteed a spot if fully fit.
There aren't many complaints about the selection of Dani Ceballos and joint-Golden Boot winner Pierre-Emerick Aubameyang – who have both excelled in the opening fortnight of the Premier League.
Nolan must be kidding himself over picking Willock, with the youngster hardly excelling in his first two top-flight starts for Arsenal compared to the established Liverpool midfield.
The 20-year-old has played in behind the striker for the Gunners, yet Nolan has insisted on playing him in holding midfield which is surely a joke.
When you compare Willock to Liverpool's two main holding midfielder's Jordan Henderson and Fabinho via WhoScored, it is clear that the Reds' duo would be much better suited.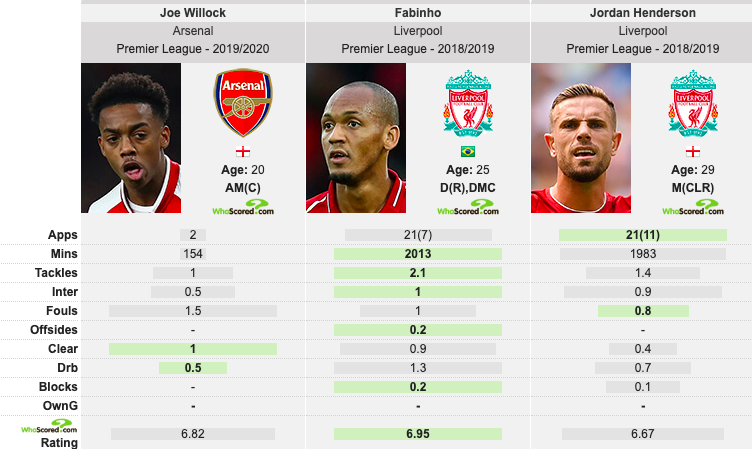 The Liverpool pair were the two most used players by Jurgen Klopp last season, whereas Willock was still playing in the Arsenal academy.
When you compare the Arsenal youngster in this campaign to the Reds' duo from last season, Fabinho averages significantly more tackles and interceptions than Willock – who has struggled with defensive duties, proved by the fact he has had to commit 1.5 fouls per game.
Willock has only been dribbled past fewer times because he hasn't put himself in positions to make tackles and much prefers to stay forward to try and influence games on the ball.
Nolan must be kidding himself by selecting Willock, who realistically wouldn't even make the bench of a combined side.