OPINION
Nigel Reo-Coker seems to favour Liverpool defender Joel Matip ahead of Joe Gomez when asked about Jurgen Klopp having to decide which centre-back to play against Chelsea on Wednesday.
The Sky Sports pundit was asked to step into the manager's office, and effectively pretend he was Klopp, while looking at the clash with the Blues and was directly asked about the Reds manager's choice when it comes to Gomez and Klopp.
Reo-Coker responded to the Gomez or Matip debate by seeming uncertain about the Reds 22-year-old.
The pundit explained that Gomez must be doing something right in training to be ahead of Matip, before saying Liverpool looked better once the 28-year-old was brought on to play centre-back in the Community Shield against Manchester City with his English teammate being pushed to the right-flank.
"I think y'know at the moment Gomez is doing something right in training and with his preparation in order to get the nod ahead of Matip," said Reo-Coker on Sky Sports News (11:06am, Tuesday, August 13th).
"I think he has done well, in the Community Shield, I think they looked better when Matip came on and Gomez went to right-back, but at the moment Gomez does have the edge over him."
Reo-Coker believes Gomez must be doing something behind-the-scenes to be ranked above Matip, which implies he hasn't seen enough to know why the 22-year-old has been in Klopp's starting line-ups rather than Matip.
Then when you take into consideration that Reo-Coker followed those remarks up by claiming Liverpool looked better with Matip in the heart of their defence against Man City, it appears to show that he favours Klopp playing the 28-year-old against Chelsea rather than Gomez.
It's fair to say Reo-Coker's view may be one that is shared by at least a few Liverpool fans, as not only was Matip impressive in his 2018/19 campaign but his experience will likely come in handy considering that Adrian is likely to be between the sticks rather than Alisson, due to the Brazilian being injured.
When you compare how the two players faired in the Premier League in the 2018/19 campaign on WhoScored, there are several arguments you can make for why Matip should start ahead of Gomez, at least against Chelsea.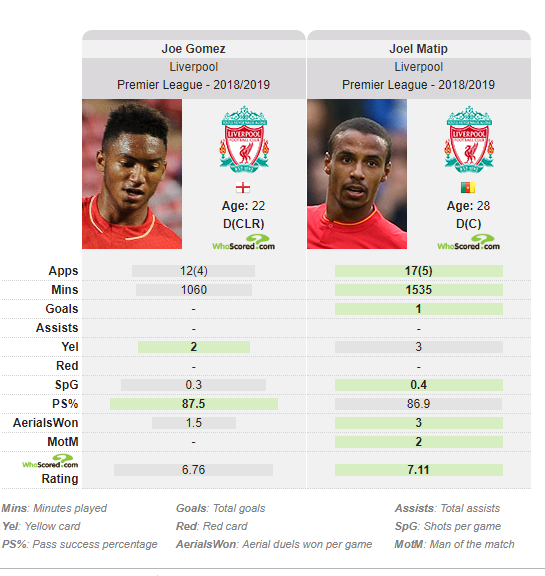 The 28-year-old averaged a higher match rating across his outings, perhaps suggesting he is more consistent and won more aerial duels per game which may come in handy considering Chelsea's main forwards are Olivier Giroud, who stands at 6ft 4in tall (Source: Transfermarkt), and Tammy Abraham, who stands at 6ft 3in tall (Source: Transfermarkt), so they will likely try to be an aerial threat on Wednesday.
Matip is also likely to be more fresh for Wednesday clash, with Gomez having played 100% of the minutes in the Reds' opening two games of the season whereas the 28-year-old has only racked up 23 minutes so far (Source: Transfermarkt).
So when you consider that, maybe Reo-Coker is right to favour Matip ahead of Gomez for the clash with Chelsea even though it would be harsh to drop the 22-year-old given that he has impressed against Norwich and Man City so far.