Paul Ince and Chris Sutton clashed when it came to creating a combined Liverpool-Manchester City XI ahead of the two sides clashing on Sunday.
Robbie Savage asked Ince, Sutton and Michael Owen to put together a combined XI, pictured below, and it seems two of the pundits couldn't agree on who to omit from the team out of Mohamed Salah and Sadio Mane.
Sutton appeared to argue that Salah was undroppable so he should be in the side ahead of Mane, whereas Ince clearly ranked Mane above Salah as he dismissed his fellow pundit's remarks.
"How can you leave Salah out? You can't leave Salah out, I'm going to leave Mane out for Salah," said Sutton on BT Sport 1 (10:14, Saturday, November 9th).
Ince replied: "No way, Mane, Sterling, Aguero, we're not moving."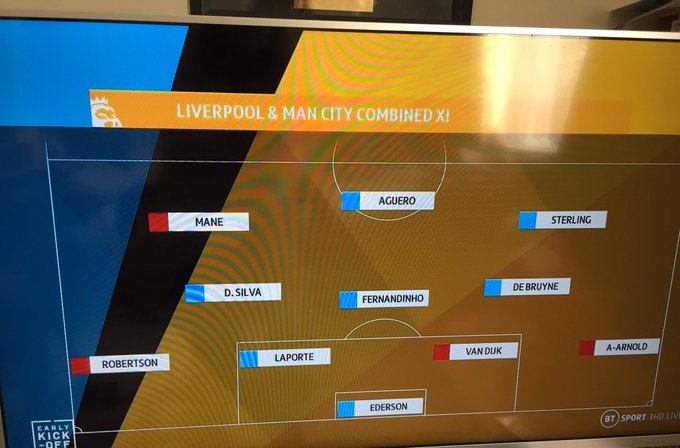 OPINION
Savage made Owen, Sutton and Ince build a team together, and he should have just had each of them create their own. After all the attacking positions weren't the only area of the team where the pundits clashed. Owen and Ince wanted David Silva, but Sutton rightly pointed out the Man City veteran was no longer at the peak of his powers and he would rather have Bernardo Silva. Sutton and Owen also insisted on having Trent Alexander-Arnold, but Ince bizarrely wanted Kyle Walker as the team's right-back, before being outvoted. However, when it comes to the Salah-Mane debate, it's hard to take sides. Both Liverpool attackers have been in formidable form this season and if they're competing for the same spot, it's hard to know who to give the edge to. Mane and Salah have both scored 8 goals this season, across all competitions for the Reds, in order to be joint top of the club's scoring charts. Mane has averaged a goal every 145 minutes, while Salah has averaged a goal every 152 minutes, as per the BBC, so it's neck and neck with them, especially when you consider the Eqyptian has three more assists than his teammate this season. So with that in mind, maybe Liverpool fans shouldn't concern themselves with this debate and just be happy both are at Anfield.