Alex Oxlade-Chamberlain and Dejan Lovren have both taken to Instagram to send messages to former Liverpool striker Daniel Sturridge. 
The 29-year-old made the headlines earlier this week after his dog, Lucci, was stolen from a house in LA.
As reported by Sky News, the England international was reunited with his furry friend, and took to Instagram to share an amusing video that overlaid his plea for information on top of the beat from Stormzy's number one single, Vossi Bop.
Former teammates Oxlade-Chamberlain and Lovren both commented on the post, with both players sharing a serious of laughing face emojis.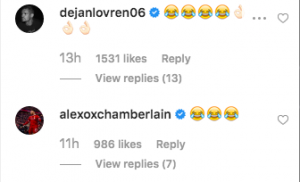 OPINION
The main thing to take away from this episode is that Sturridge has been reunited with Lucci, his canine companion. You can only imagine how bereft he must have been when the little fella was stolen, and it must have been the greatest relief in the world to get him back safe and sound. Now that Lucci is back, Sturridge can afford to have a bit of a laugh, and the video he shared is brilliant, to be fair. From a footballing perspective, however, it's clear that he was a very popular figure in the Anfield dressing room, and judging by the reactions of the Ox and Lovren, he will be missed. Where the 29-year-old goes from here is anybody's guess, but it's fair to say that he still has a number of years ahead of him at the top of his game. Surely, he could still cut it in the Premier League, provided he can stay fit and firing? Only time will tell, but at least he has Lucci by his side no matter what.