Hip-hop artist Yxng Bane sent a personal one-word message to Liverpool starlet Rhian Brewster after his performance against Borussia Dortmund on Saturday.
The 19-year-old came off the bench to score from the penalty spot for the Reds in their 3-2 pre season defeat to the German heavyweights.
It seems that the Englishman did enough to earn the attention of a man whose song 'Vroom' has been viewed on his YouTube channel over 20million times.
Brewster put up a post on his personal Instagram account after the game, to which Yxng Bane replied: "King".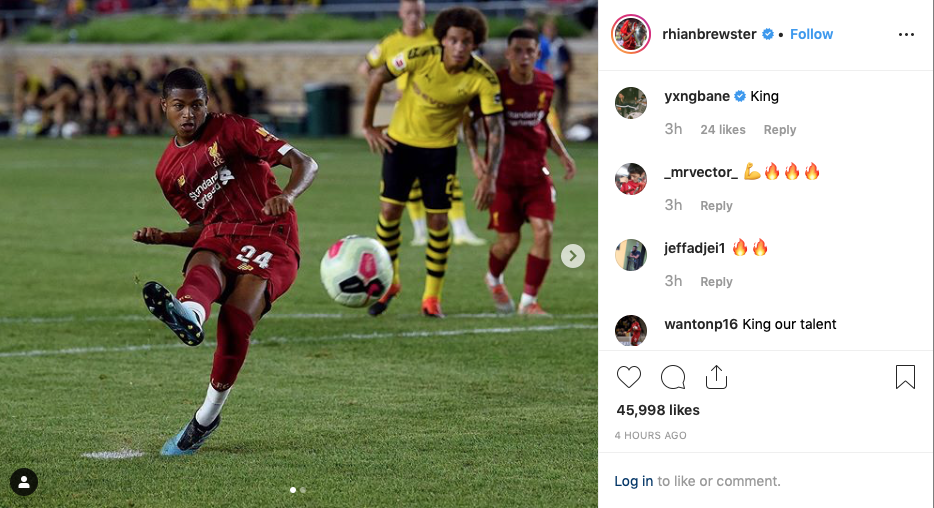 OPINION
When you see things like this you often wonder 'what's the connection, what is the link between these two people?' That's certainly the case here. Wherever did young Brewster, only now starting his footballing journey with Liverpool, encounter a hip-hop artist like Yxng Bane? It's highly unlikely that Yxng Bane would post a message like this to Brewster if he hadn't come across him at some point during his time in the spotlight. What this shows, though, is that frenzied excitement is starting to build around Brewster, who is one of the most tantalising prospects currently making their way in English football. The teenager is a real quality operator, and he showed his confidence by taking the penalty off captain Jordan Henderson on Saturday. The Reds skipper made the right decision, too, in allowing the youngster to get another goal and increase his confidence this pre season. Still, a little bit more production once the season begins is necessary before we can label Brewster as a 'King'.