OPINION
Liverpool's spending spree this summer has seen them splash out around £160million on four players who have hugely strengthened their squad for the season ahead.
While the incomings are obviously brilliant for the club as a whole, this has also meant that first-team opportunities for certain players will be few and far between in the coming season.
That will inevitably lead to some loan exits in the coming few days, with midfielder Marko Grujic set to be one of those who departs the club temporarily.
Cardiff City have been the favourites to sign the 22-year-old enforcer after he spent a successful six months there last season, but a late entrant to the race has threatened to put a spanner in the works for the Bluebirds.
As reported by The Sun, Serie A giants Lazio want to bring Grujic in, and the young midfielder now prefers a move to Rome over one to south Wales.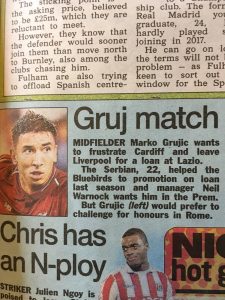 While Grujic cannot be blamed for wanting to go to Italy and play for such a big club, the move would actually not favour Liverpool if they want to see the Serb break into the first-team soon.
You would be hard-pressed to find a league so different to the Premier League than Serie A, and Grujic would spend a year in an environment that is totally different in every way to the one at Anfield.
While that would be good for his development in some ways, the youngster would then be required to return to the club and once again adapt to completely different surroundings.
That is not a situation which is conducive to Grujic making a big impact on the first-team at Anfield, and the club must therefore try and push him towards a loan at Cardiff instead.
A year in the Premier League at a club likely to be battling relegation would be a brilliant education for the 22-year-old, who would return to Liverpool ready for a first-team shot.