OPINION
Liverpool have a real chance to put the Premier League on notice by dismantling Tottenham on Saturday and Jurgen Klopp must field an attacking side to get the job done.
The passionate Reds manager has already guided his side to four wins out of four this season and must make only two changes from the side that defeated Leicester City 2-1 ahead of the international break.
Klopp must drop the axe on Jordan Henderson after recalling him to his starting line-up for the clash with the Foxes as the Reds captain didn't submit a good performance before being replaced by Naby Keita.
Keita, who has shone in his outings so far this season, must start the game against Spurs in Henderson's place as the midfielder is not only an attacking threat but is capable of being the steel in the Reds' midfield in case Mauricio Pochettino's side are in tip-top form.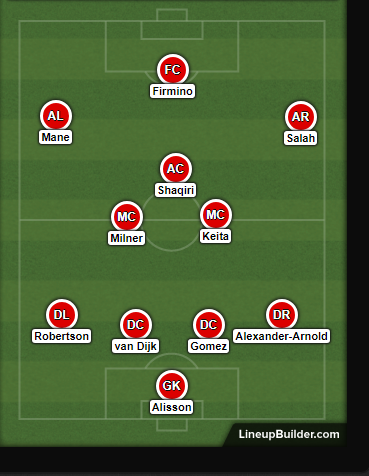 The other player who must be axed that started the Reds' last league game is midfielder Georginio Wijnaldum, which may seem a little harsh.
The 27-year-old has submitted some good performances so far this season, though his last outing was arguably his worst, but he needs to be sacrificed in order for Xherdan Shaqiri to be unleashed.
The 26-year-old summer recruit looked in excellent form for Switzerland during the international break and is clearly chomping at the bit to make a positive impact at the Reds after only featuring for 26 minutes so far.
Shaqiri, should be deployed just in front of the ever reliable James Milner and Keita, in order to give the Reds an extra edge going forward which will see Spurs crumble.
Also due to the Reds attacker being a set-piece specialist then he can unlock Spurs' defence from a corner or free-kick if they prove tough to beat at Wembley on Saturday.
Aside from those two changes, Klopp must look to field the same team that started against the Foxes as there is a reason why the Reds have won their first four league games this season.