It's the transfer rumour that has done the rounds in Liverpool for several months now – could Timo Werner become a Reds player this summer?
You can go back to last autumn for Bleacher Report's initial claims (via talkSPORT) that the Anfield club were keen on signing the RB Leipzig striker. Talk of the 24-year-old coming to Liverpool was ramped up in recent days after Sport Bild reported that Jurgen Klopp is very keen on the player and is determined to arrange a meeting with him to assess whether to push through a transfer offer.
Overnight, Sky Sports reported that Werner is ready to sign for Liverpool if the Reds were to pay his £52m release clause before its 15 June expiry date, although the Merseysiders don't intend to make a move for him by then. Evening Standard journalist David Lynch subsequently wrote that Werner has a strong desire to come to Liverpool but the Reds "have seemed keen to project the idea that reports regarding their desire to sign the German have been greatly exaggerated".
This story is likely to run for some time yet but, after a multitude of reports on the prospective transfer in recent days, let's look at how Liverpool's attack could be reshaped next season if Werner becomes a Reds player.
Option 1: 4-2-3-1 with Werner up top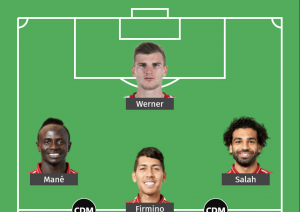 Klopp may be reluctant to sacrifice one of his main front three of Sadio Mane, Roberto Firmino and Mohamed Salah even if Werner ends up at Liverpool. However, one way of accommodating all four in the same starting XI is to deviate from his preferred 4-3-3 to a 4-2-3-1 with Werner playing as the focal point of attack.
That would see Firmino adopting a nominal 'number 10' role rather than a centre-forward position, although the Brazilian rarely plays as a bona fide number nine as it is – as noted by the Liverpool Echo, he often drops deep to contribute to the Reds' link-up play rather than loitering in the penalty area.
Pros: This setup would allow Klopp to fit all four attackers into the team, thus reducing the likelihood of one player feeling burnt at being left out. It would not require a huge change in Firmino's role and could even relieve some of the scoring burden on him as a centre-forward if a potent goal-poacher of Werner's ilk (27 so far this season) is leading the line. It also gives Klopp greater flexibility to try a 4-2-3-1 if the game situation recommends or requires it.
Cons: It risks breaking up the trusted triumvirate of Mane, Firmino and Salah and would see Klopp moving away from the 4-3-3 which has served Liverpool so well this season. It would also leave room for only two midfielders, meaning that one of Fabinho, Jordan Henderson or Georginio Wijnaldum would need to be sacrificed.
Option 2: 4-3-3 with Werner at centre-forward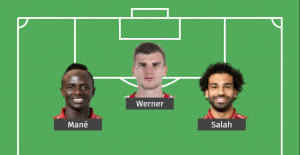 If Klopp would rather stick with his successful 4-3-3 formula and utilise Werner in his usual centre-forward role, it would make Firmino the fall guy. On one level, this move would be easy to justify given that the RB Leipzig striker is a far more potent scorer than the Brazilian (11 goals this season) and would preserve the 4-3-3 setup.
The danger is that Firmino's omission could remove a core ingredient of the fluidity of Liverpool's attack if he is not on the pitch to link up the play and would require Salah and Mane to develop the same level of understanding with Werner as they have with the Brazilian.
Pros: Keeps the 4-3-3 (so no need to drop a midfielder), uses Werner in his best position, adds a more prolific centre-forward threat.
Cons: Could unsettle Liverpool's attack if Werner fails to develop the same degree of link-up play with his fellow forwards that Firmino has done, risks alienating the Brazilian if he is out of the team for a lengthy period of time.
Option 3: 4-3-3 with Werner out wide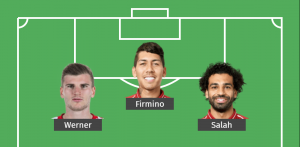 Another way in which Klopp could use Werner in a three-man attack is to play him on the left wing, something that the 24-year-old has done on five occasions for RB Leipzig this season (with three goals from that flank). Indeed, the Germany international often played on the left-hand side of attack for Stuttgart earlier in his career instead of his now-familiar centre-forward role.
In that instance, Mane would be the player to drop out, in turn depriving Liverpool's attack of a consistently reliable scorer and their second-most prolific player this season with 18 goals. It should be noted, though, that they may have to do without him for a spell in January if Senegal qualify for the Africa Cup of Nations finals, so trying Werner on the left before then could make some sense.
Pros: Fits Werner into the team, keeps the 4-3-3, enables Klopp to assess Werner as a winger ahead of AFCON if Mane will be unavailable.
Cons: This would pull Werner out of his strongest position and force Mane to be sacrificed, something Klopp could be averse to doing with Real Madrid apparently keen on signing the Senegal ace (as per Football Insider).
Option 4: 4-3-3 the same as this season, with Werner as an option to bring on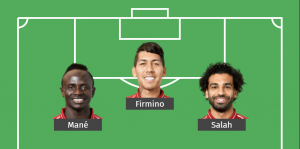 Even if Liverpool activate Werner's £52m release clause before its expiry date, Klopp might tell the RB Leipzig striker that he would need to earn his place in the team ahead of the attacking trio who have served him so well. The manager could also decide to rotate between his attacking options and keep Werner in reserve if he were to have fitness concerns or endure a loss in form, particularly if Firmino hits a purple patch.
However, if Klopp is going to spend upwards of £50m on a striker with a proven scoring record at Bundesliga and Champions League level, it would seem baffling for him to then hold the player back as Plan B rather than giving him the chance to repay Liverpool's investment in him. Also, Werner hasn't scored this season when coming off the bench – admittedly he has only had three substitute appearances and he is almost always an automatic choice in RB Leipzig's attack with such a formidable goal return (as per TransferMarkt).
Pros: Keeps the 4-3-3 formation as well as the proven attacking triumvirate, could enable Werner to be rested if he needs it, would give Liverpool a potent option off the bench if they quickly need a goal.
Cons: Werner could get frustrated at not starting and it would deprive him of sustained opportunities to repay his price tag, which could see pressure heaped on him if he doesn't hit the ground running. It could also increase the pressure on Firmino to deliver if an expensive centre-forward is ready and waiting on the bench.
Liverpool fans, which of these proposed attacking setups would be your preferred option if Werner ends up at Anfield next season? Join in the discussion by commenting below!